| | |
| --- | --- |
| | Analog |
| | |
| --- | --- |
| | Amplifier / Pre-amplifier |
| | |
| --- | --- |
| | Cable |
| | |
| --- | --- |
| | Digital |
| | |
| --- | --- |
| | Headphones |
| | |
| --- | --- |
| | Power Treatment |
| | |
| --- | --- |
| | Speaker |
| | |
| --- | --- |
| | Pre-owned Audio |
| | |
| --- | --- |
| | ................................................. |
| | |
| --- | --- |
| | Acoustic Treatment |
| | |
| --- | --- |
| | AC Power Accessories |
| | |
| --- | --- |
| | Connector / Connector caps |
| | |
| --- | --- |
| | Damping / Isolation |
| | |
| --- | --- |
| | Furniture |
| | |
| --- | --- |
| | Record / Disc Care |
| | |
| --- | --- |
| | Tubes / Tube Rings |
| | |
| --- | --- |
| | TuningTweak / Accessories |
| | |
| --- | --- |
| | .................................................. |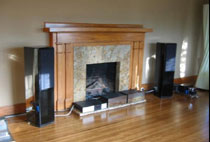 | | |
| --- | --- |
| | |
| | |
| | |
| | Goldmund dialogue 3-way 96db high efficiency loudspeakers |
| | Siltech G7 Princess / G7 Ruby Hill 2 |
"Hello, Eytan. I think I am in front of your house now; do you have a Mercedes Benz parked in front of your house?"
"A Mercedes Benz? No, my Mercedes is parked in my living room."
Well, Eytan was not kidding. When I arrive at Eytan home, there is his Mercedes Benz in his living

room. Eytan's home is in the nicest neighbourhood in Vancouver. He just renovated his home
and is in the process of building / upgrading his audio system. The size of his living room is
approx. 12 x 25 with beautiful hardwood floor and lovely natural lighting. Eytan and his wife both
enjoy music, and Eytan humbly introduced his wife to me as the best ears in the house. :)

Eytan's setup is a simple, yet very elegant, dedicated 2 channel system. The classic looks of the
vintage Jadis matches very well with his interior decor. I am surprised to find these two super
high-end European brand - Jadis and Goldmund in North America, especially in a home of
Vancouver. Unfortunately, there are not many chances to hear them; at least, in Vancouver. I
asked Eytan, how does he choose them as his main system.
Eytan said that he has done a lot of

research online, and he was also mentored by a Jadis / Goldmund expert in New York City. He
personally likes the European style audio design, and it took him a while to finally put together
this wonderful setup.

Eytan's system demonstrates a surprising pin-point precision of the sound stage and a very rich,
warm, and seductive musicality in every way. I notice that Eytan has done a great job toeing
these speakers, and the combination of Jadis and Goldmund offers extremely good synergy. I
have heard of Mark Levinson + Wilson audio many times with pin-point precise sound stage, but
the musical presentation were never as rich or seductive as the Jadis.

It was a very pleasant afternoon, Eytan and I listened to some nice demo CDs and we talked a lot
about audio. There is still room for improvement on Eytan's system, as he is preparing his next
step in power treatment, isolation stand, tubes and cables; yet, the potential in his audio system
is limitless. I am looking forward to my next visit to his system.