| | |
| --- | --- |
| | Analog |
| | |
| --- | --- |
| | Amplifier / Pre-amplifier |
| | |
| --- | --- |
| | Cable |
| | |
| --- | --- |
| | Digital |
| | |
| --- | --- |
| | Headphones |
| | |
| --- | --- |
| | Power Treatment |
| | |
| --- | --- |
| | Speaker |
| | |
| --- | --- |
| | Pre-owned Audio |
| | |
| --- | --- |
| | ................................................. |
| | |
| --- | --- |
| | Acoustic Treatment |
| | |
| --- | --- |
| | AC Power Accessories |
| | |
| --- | --- |
| | Connector / Connector caps |
| | |
| --- | --- |
| | Damping / Isolation |
| | |
| --- | --- |
| | Furniture |
| | |
| --- | --- |
| | Record / Disc Care |
| | |
| --- | --- |
| | Tubes / Tube Rings |
| | |
| --- | --- |
| | TuningTweak / Accessories |
| | |
| --- | --- |
| | .................................................. |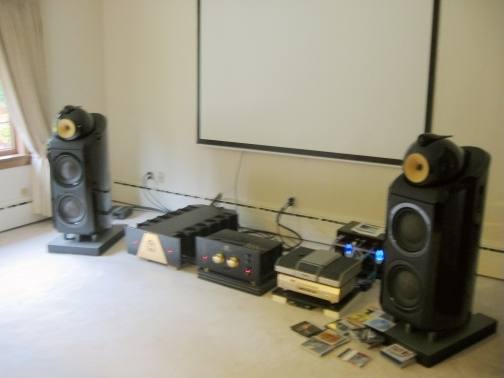 | | |
| --- | --- |
| | |
| | |
| | |
| | Roksan & Sony SACD (modified) |
| | MIT Oracle V3, Siltech, Kimber, etc. |
One
of the best joy being in this industry is the opportunity to hear some of the best audio equipments there are, and to acknowledge its absoluteness from the rests.
It is obviously not an everyday experience to find a 200 lb amplifier, nor a $26,000 pre-amplifier at one's home. Not only does one have the financial budget, but he must have a very supportive and understanding
wife.
I have known Mr. and Mrs. Wang for many years; they are both music lovers and have had over 20 years of experience in this hobby. When it came to choose their new home audio system, their goal is to re-produce live soundstage on a cost-no-object mission. After careful audition, they settled with
MBL
flagship pre-amplifier and amplifier. To accommodate with these German monsters, they chose a pair of limited edition B&W Signature 800 speakers in tiger-eye finish, an instant collectible .

Now the million dollar question is, how does it sound?
Details and details; this does indeed put my system in shame. Mr. & Mrs. Wang's system offers incredible amount of details. To put into perspective, when listening to
La Fille Mal
Gardee
, what is going on in the back stage (track 3)? You can find a block of footsteps from the right rear moving towards the left rear. When listening to
Treasures of Asia Pacific
, after the dog barking, what does the man do after he enters the house (track 1)? You can hear that he's tapping on his cloth, possibly to get rid of the snow. Every single details is not forgotten on Mr. Wang's system, and the solidness of its sound reproduction makes listeners, like me, firmly believe it is real, and it is right there in front of me

The benefit of having a monstrous amplifier is like driving a Ferrari. Wherever you go and at whatever speed, you know the power is there, and there is a lot more to give. In their mid-size room (20x15), when playing
Violin Concerto
, you can visualize Oistrakh, and the height of his violin; just like watching a big screen TV.

Of course, they haven't forgotten about their digital source. Mr. Wang thinks the digital war is not over yet, and he refuses to spent big bucks on yet-matured digital source. However, his final contenders do include Flagship MBL 1611+1621 CD player, EMMLabs, and dCS.

I often see many audiophiles hide their new toys from their significant other. Many of us also find this hobby lonely sometimes, especially when friends and families think that we are crazy with $1000 power cord. What I learn from Mr. & Mrs. Wang is that they both love music, and are equally enjoyed in this Hi-Fi world.

In my opinion, their system is well regarded as one of the best home system I have auditioned, yet Mr. & Mrs. Wang modestly disagreed. They are planning to setup a dedicated listening room for the whole family. It is in fact the idea of Mrs. Wang, who is behind the room design and placement. Well, in my opinion, they certainly are one of the happiest couple in the world.