| | |
| --- | --- |
| | Analog |
| | |
| --- | --- |
| | Amplifier / Pre-amplifier |
| | |
| --- | --- |
| | Cable |
| | |
| --- | --- |
| | Digital |
| | |
| --- | --- |
| | Headphones |
| | |
| --- | --- |
| | Power Treatment |
| | |
| --- | --- |
| | Speaker |
| | |
| --- | --- |
| | Pre-owned Audio |
| | |
| --- | --- |
| | ................................................. |
| | |
| --- | --- |
| | Acoustic Treatment |
| | |
| --- | --- |
| | AC Power Accessories |
| | |
| --- | --- |
| | Connector / Connector caps |
| | |
| --- | --- |
| | Damping / Isolation |
| | |
| --- | --- |
| | Furniture |
| | |
| --- | --- |
| | Record / Disc Care |
| | |
| --- | --- |
| | Tubes / Tube Rings |
| | |
| --- | --- |
| | TuningTweak / Accessories |
| | |
| --- | --- |
| | .................................................. |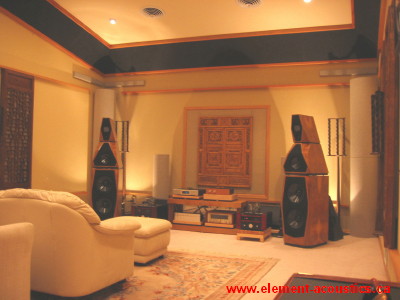 I've
been to many audiophile homes, and listened to many systems. I also have owned (owned) a number of systems myself, and helped many audiophiles with their setups. It may be an overstatement when I say I have heard some of the best systems, but my visit to Winston's (President of
First Impression Music Ltd
.) home certainly marks the height of my ever home visits.
Situated on a 1 acre land in quiet and peaceful neighborhood near Seattle, Washington, Winston does not only own an audiophile envy room, but a dream home with beautiful garden, and running water pond. Winston's listening room is, by far, the most dedicated audio room there is, a combination of the most thoughtful design, careful acoustically measured, and most advanced technology; it was designed and constructed by Winston over the course of 18 months with the help of many industry elite designers and professional engineers.
First of all, the foundation of the room was designed to be built on an absolute solid ground. It was constructed in the follow ways:
1. 4' concrete wall to form the basin of the foundation. Inner sides of the wall are covered with a special wood-based soft board forming an effective isolation from outside vibration and resonance.
2. The ground of the foundation was machine compressed, then filled with 1st layer of rough gravels, 2nd layer of fine gravel, third layer of rough sand, and fourth layer of fine sand, all machine-compressed.
3.

Then cover with special 2" foam which can stand tones of weight and can last for 25 years.
4.

Finally, on top of the foam is 6" of reinforced concrete block to achieve solid, no ringing but live floor for clean and solid bass performance.
The studs used were 8"x4" reinforced high density wood-chip frame with special insulation within, instead of the standard 4"x4". The room was built on a concept of "room-within-a-room" with 3 layers of wall; the exterior wall was built affixed to the solid concrete wall of the foundation, where the inner wall of the listening room was built on the floating slab, so that the vibration from outside room does not transmitted to the inner room. The easiest way to imagine, it is a room on a vibration isolation platform.
The room is measured approximately 17' (W) x 27.506' (L). The ceiling is on ascending angle at 10 degree from 10.51' (front H) to 16.51' (rear H); what you get is a perfect size room with a golden ratio (1 : 1.6 : 2.5). On the power side, there are 4 units of isolation transformers of 30KW @ 117V for front end equipment, two of which are for digital gear. Two separate isolation transformers of 45KW @ 117V isolation transformers for sub-woofer amplifiers and two 45KW @ 240V isolation transformer for four high/mid mono amplifiers.The room environment is computer controlled at 22 ~ 24 Celsius temperature and at 39 degree humidity without any noise of the fan nor the air flow. When the door is sealed, the room is drawn into its pitch black quietness. The interior wall colors differ by just a nick of degrees to give you a good sense of 3-D space, yet its soft color tone allows you to forget about its boundary quickly. Winston refers this as the wonderful design of psycho-acoustic engineering. There are a number of acoustic treatments all around the room, positioned by specified calculation then fine tuned by ear.
The system I auditioned at Winston's were:
Speaker: Avalon Sentinel
(Specially designed and modified for Winston's room)
Pre-Amp: FIM's prototype pre-amplifiers (not yet in production)
Source: FIM's prototype CD player(not yet in production)
Cable: All FIM life cables + accessories
Listening CD's:
I've heard of Avalon speakers in the past including Acent, and Eidolon. In my opinion, they are, aside from its beautiful craftsmanship, able to deliver vast sound stage with ample bass response; yet they are quite acoustic challenging. Some may find its bass too strong in a small size room, but when one compromises its bass, may find its bright top end. Knowing its ability, its strength, and its possible weakness; we began with a cruel testing CD, a popular vocal album: Jacintha – Here's to Ben. I have listened to this album over 50, if not 100 times; and I was fairly confident what it sounds on varies systems. On track 3 (Danny Boy), Jacintha sings solo for the first 2 minutes before the trio comes alive. Honestly, I wasn't very comfortable for the first minute of the play time. For the first time, the realism of Jacintha's vocal really gives me goose bumps. On Winston's system, the position of Jacintha's mouth is pin point precise; I had to open my eye several times just to make sure Jacintha isn't right there in front of me. The beautiful and emotional vocal of Jacintha stands out from pitch black background, and I get to hear impressive details after details. I expected some normal harsh "S" ending sound throughout the song, which I found none on Winston's system. At 2:39, the drummer starts to brush gently, along with bass and piano. It sounds absolutely warm and relaxing as it expands the sound stage from solo vocal into a well 3-dimension level. The proportion of its instrumental is in the right size; there is no exaggeration, but a pure delivery of studio-like environment.
Our 2nd test was one of Winston's newest album – "Grooving Classics – A String & Percussion Fest" originally recorded by Keith Johnson at Richard Fisher Center, Bard, New York (to be published in September 2006). The sonic density of these strings is extremely high and detailed, where you can visualize each and every instrumental while they play and catch its rapid sonic movements. The soundstage is huge, and well beyond the walls with very realistic airy feeling of the live recording. The percussion is among the best I have heard. The bass response is clean and tight, not as strong as Wilson or Genesis like, but it's solid enough to punch you right on your chest. Contrary to the small scale vocal album we heard not long ago, the presentation of this album demonstrates the full of dynamics, vividness, and energy. You just know that it is all there.
Our last test album was also Winston's newest album – "Super Sounds 3 – A Musical Celebration of Sonic Wonders" (to be published at the end of August 2006). Before playing this album, Winston told me with his confidence; "I call this Super Sounds, you'll know why it is called Super Sounds".
The 1st track from Super Sound 3 is Copland 100 / Minnesota Orchestra, recorded by Reference Recording. The revelation of the concert hall, transparency of the orchestral and its conservation of sonic energy before it blast right though the speaker is an absolute blast. It is an extremely different track, but Winston's system handles with ease. I only wish my system may sound nearly as good, perhaps it's what any audiophile could ask for. The 2nd track from Super Sound 3 is also outstanding. I can hear the choir sings in the front of me at the beginning, before they gradually move apart, and finally surround me. I hear children singing in the back of my ears, beside my ears, and just every where; yet all within its detailed confinement. They are all hi-fi lover's dream tracks, as what I expect from Winston. I suppose not many music producers keep such an impressive listening room to monitor each and every piece of his work. I could really listen music at Winston's for days, and those would have been very good days.
It is such an honor to be invited to Winston's; especially when I later learned that he will be receiving several guests from some very well known multi-national corporations (those whom an average Joe like me can only get to read from business newspapers). Yet, Winston and his wife, Marina, welcome me with their warm hospitality and their great kindness; I like to especially thank both of them again for everything. At the age of 67, he is still a very busy man. I asked Winston why he's doing this; he answered, "This world needs more love. I just hope what I am doing can make a little more contribution to our society".
Winston's room had many people talked about for years, and his music is already well known as one of the best audiophile label; it will continue to be so many years down the road. My mission was never to discover the best sound from Winston's system. I was there to witness a milestone of audio room design, and more important, to admire his passion towards the art of listening.
~ By Edward Ku
All photographs have been approved for this interview only, and are property of Element Acoustics. Copyright reserved