| | |
| --- | --- |
| | Analog |
| | |
| --- | --- |
| | Amplifier / Pre-amplifier |
| | |
| --- | --- |
| | Cable |
| | |
| --- | --- |
| | Digital |
| | |
| --- | --- |
| | Headphones |
| | |
| --- | --- |
| | Power Treatment |
| | |
| --- | --- |
| | Speaker |
| | |
| --- | --- |
| | Pre-owned Audio |
| | |
| --- | --- |
| | ................................................. |
| | |
| --- | --- |
| | Acoustic Treatment |
| | |
| --- | --- |
| | AC Power Accessories |
| | |
| --- | --- |
| | Connector / Connector caps |
| | |
| --- | --- |
| | Damping / Isolation |
| | |
| --- | --- |
| | Furniture |
| | |
| --- | --- |
| | Record / Disc Care |
| | |
| --- | --- |
| | Tubes / Tube Rings |
| | |
| --- | --- |
| | TuningTweak / Accessories |
| | |
| --- | --- |
| | .................................................. |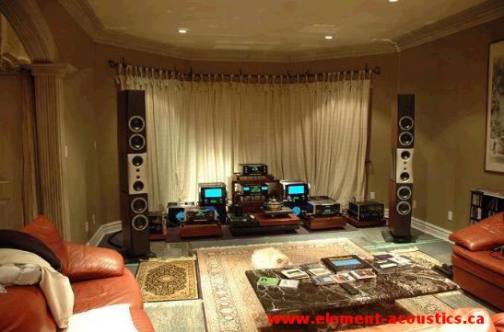 | | |
| --- | --- |
| | |
| | |
| | |
| | McIntosh MCD1000 + McIntosh MDA1000 |
| | DH Labs, Purist Audio Design, X-Symphony, Cryo-Clear, Siltech |
| | JC Verdier La Platine Vintage with Granito Base |
| | Moerch DP-6 12" + TCI Viper Cable |
| | |
| | |
This
beautiful setup, many audiophile may have already seen on
6Moons review
, belongs to my

good friend - Rick, founder of
Stereopal.com
, a very well known, non-for-profit but pure audiophile

hobby sharing friendly organization. Over the years, Rick has shared his passion and valuable
experience in audio by visiting audiophiles and manufacturers in North America and Asia, and his
personal pick of fine albums he collects on
Stereopal.com
. Yet, many did not know that Rick

keeps an absolute Reference system at home, and is perhaps one of the biggest fan of McIntosh.

Rick's open listening room is measured 21 x 15 feet. With ceiling at 9.6 feet tall, there is plenty of
room for Dynaudio Temptation and rest of the setup. All Rick's audio racks and stands are
custom built by Steve Huang, who replicated the Titanic staircase, and match perfectly with the
exquisite looking of McIntosh and Dynaudio Temptation.

In my opinion, Dynaudio is best known for its drivers, and its sensitivity to truly reflect one's
system synergy; yet sometimes difficult to drive the bottom half out. However, on Rick's system,
the McIntosh drives Temptation with such an ease with tonal balance, and dynamics. The bass is
a little bit softer than he would prefer; in his opinion, all other Mac amps, whether solid state or
tubes, tend to have a little soft sounding. However, the mids and highs are extremely seductive.
Rick's next upgrade includes MC2KW, 6 chassis 2000W, 8000W peak power amp!

Rick's new toys include the amazing looking - JC Verdier La Plantine Vintage TT with Granito
Base, Moerch DP-6 12 inch arm with TCI Viper cable, and the highly regarded ZYX Airy 3S-SB
cartridge. It took him 3 months in planning, and 2 weeks of setup. At 1:43 AM of a Tuesday
morning, he finally has them all setup, carefully aligned, and started to sing. In Rick's words, "I
am in heaven!". It is true, the nature sound of analog is unbeatably beautiful, it's hard to be
matched by any digital source.

His open mind and humble attitude is one of many virtues of Rick's. Ever since Rick founded

Stereopal.com
, he has met many new friends around the world. Rick says that as he meets

more and more audiophiles on personal basis, he has learned to respect and appreciate the
differences in different musical and personal taste. As Rick and I both agree, audio is an Art,
rather than Science. Our perception of what's good or bad depends olely on our point of
reference.

To conclude this review, Rick likes to share his truthful thought with all audiophile: "The sure
way to achieve seclusion in this hobby is to believe you are the final authority."


For
a list of his selective CD recommendations, please click
HERE
.