| | |
| --- | --- |
| | Analog |
| | |
| --- | --- |
| | Amplifier / Pre-amplifier |
| | |
| --- | --- |
| | Cable |
| | |
| --- | --- |
| | Digital |
| | |
| --- | --- |
| | Headphones |
| | |
| --- | --- |
| | Power Treatment |
| | |
| --- | --- |
| | Speaker |
| | |
| --- | --- |
| | Pre-owned Audio |
| | |
| --- | --- |
| | ................................................. |
| | |
| --- | --- |
| | Acoustic Treatment |
| | |
| --- | --- |
| | AC Power Accessories |
| | |
| --- | --- |
| | Connector / Connector caps |
| | |
| --- | --- |
| | Damping / Isolation |
| | |
| --- | --- |
| | Furniture |
| | |
| --- | --- |
| | Record / Disc Care |
| | |
| --- | --- |
| | Tubes / Tube Rings |
| | |
| --- | --- |
| | TuningTweak / Accessories |
| | |
| --- | --- |
| | .................................................. |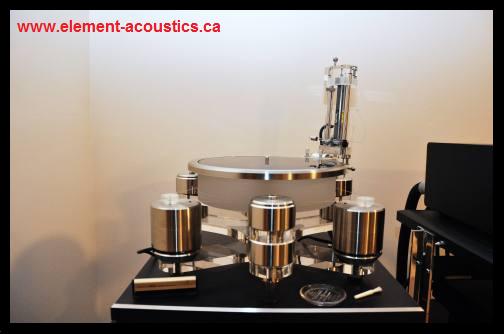 Letter from EC:
"Thanks for coming by yesterday to install the TT-2 arm.
The new TT-2 arm is great, sounding a lot better than the old TQ-1 arm with more details, less background noise, much quicker and cleaner bass, and better sound stage. I was listening to Eva Cassidy Songbird album yesterday, and on one track, I was surprised to hear a background male vocal that I have never detected before. The background male vocal was behind the singer and with the TQ-1 arm, the sound just merged with the instrument music, and was not distinct or detectable. I did not even know it was there. Now, I heard it clearly, not loud, but very much detectable, and originated ~6 feet behind the singer. Amazing resolution !! The whole ensemble reminds me now of the 1 hour session I have with the Clearaudio Statement turntable with the Goldfinger cartridge a few years ago. It still does not quite match the extreme resolution and noiselessness of the Statement, but it comes awfully close, ~97%. It is amazing !!
Thank you for recommending the upgrade from the TQ-1. now that I heard the improved sound, I considered the upgrade "a no brainer". No wonder Clearaudio discontinued the TQ-1. It is no contest !! I am writing you this to thank you for the exquisitely precise installation job you did for me, and for you to use this email message to other TQ-1 arm owners/customers that might be considering the upgrade to the TT-2, or for that matters, for other customers that might considered a new arm, and not necessarily the owners of the TQ-1's. It is the best $$$$ I ever spent on a hifi gear. The best return on expenditures I experienced.
Thanks again and best wishes to you and wife for the new year."
| | |
| --- | --- |
| old Clearaudio TQ-1 arm | New Clearaudio TT-2 arrived |