| | |
| --- | --- |
| | Analog |
| | |
| --- | --- |
| | Amplifier / Pre-amplifier |
| | |
| --- | --- |
| | Cable |
| | |
| --- | --- |
| | Digital |
| | |
| --- | --- |
| | Headphones |
| | |
| --- | --- |
| | Power Treatment |
| | |
| --- | --- |
| | Speaker |
| | |
| --- | --- |
| | Pre-owned Audio |
| | |
| --- | --- |
| | ................................................. |
| | |
| --- | --- |
| | Acoustic Treatment |
| | |
| --- | --- |
| | AC Power Accessories |
| | |
| --- | --- |
| | Connector / Connector caps |
| | |
| --- | --- |
| | Damping / Isolation |
| | |
| --- | --- |
| | Furniture |
| | |
| --- | --- |
| | Record / Disc Care |
| | |
| --- | --- |
| | Tubes / Tube Rings |
| | |
| --- | --- |
| | TuningTweak / Accessories |
| | |
| --- | --- |
| | .................................................. |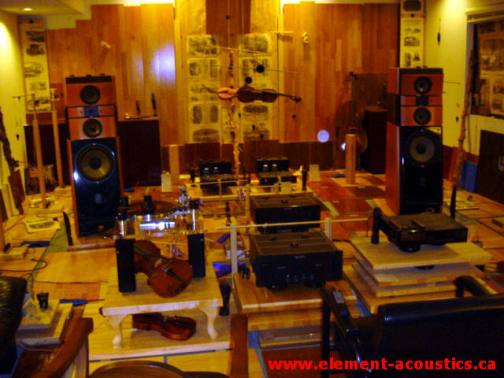 What
is the most important part on your audio system? Speakers, amplifier, turntable? If you

ask me, I would say it is the room Acoustics. With components costing a fortune these days,
many audiophiles emphasize most of their budget on the components itself. Forgetting about
the root of an audio system - THE room, itself.

The Room Acoustics is really a study of science and art itself. With the help of sound
equipments and careful measurement, we can design a room with ideal acoustics. However,
the rest is all trial and error; system synergy fine tuned by one's ears.

I really enjoy Hill's audio room, as he has put in a lot of effort and imagination into the room
acoustics. It's definitely an eye-opener, and an audiophile touch. The vast use of Ebony has
helped his system to isolate from unwanted vibrations, but also flows with the natural
resonance of the sound.

For those who are also interested in Shun Mook and its applications:

Shun Mook Audio, Inc.
360 Grand Avenue #310

Oakland, California 94610 USA

Tel: (510) 839 6857
http://www.shunmook.com/
Pioneer CD player (heavily modified)

Audio Research Reference 2

Audio Research Reference Phono

Focal JM Labs Nova Utopia

All Shun Mook cables, including speaker cable, interconnect, and power




cords

Oracle Delphi mk V + Shun Mook Record Clamp
"
The
various tweaks you see in the room are guided by the principles practiced by

tonemeister Dr. Tan (A master of the
Shun Mook
audio clan) . I shall share with you some of

his insights:
When tweaking a listening room, always remember the so-called "Sing Along" principle. Any
object that sits in the room sings with your system. To better understand what this is all
about, you can do a little experiment to prove the point.

Bring into the room a little object, such as a metal kettle or any similar thing, then play a cut of
music and memorize what it sounds like. Then remove the object away from room, and play
the same track again. You will be surprised what difference can it make with that little
innocent looking thing sitting with you in the listening room !

So anything in the room does sing along. There are many bad sounding materials, such as
metal, granite, tiles etc. Good things, such as musical instruments and wood the latter
consists of many different kind, such as maple, oak, pine, ebony.........., Put them into the room
will always bring pleasure to your ears. On the other hand, metal is the worst enemy of all. It
is because they all ring loudly and resulting in bad sound! The less metal left in the room the
better. "

So much for now, happy listening"
~ Hill